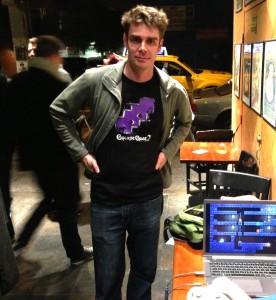 I started my game career as a musician/sound designer. I specialized in the Nintendo handhelds (Game Boy Color, Game Boy Advance, DS) and between 2002 and 2010, worked on over 40 titles. (You can see some of them here on MobyGames.)
I began my first solo project, Soulcaster, in 2009, basically just for fun. I had always wanted to make my own game, and I had some downtime in between music gigs, so it really was just setting up a new project in XNA at a coffee shop, and chipping away at it day by day.
Soulcaster launched in 2010 on Xbox Live Indie Games, and was actually pretty well received. It made its place in the top rated games list for several months, and I was kind of surprised that it went over that well. Even though I went back to contract work in 2010, I put some spare time into a sequel, which launched at the end of 2010 and was also pretty well received.
I decided to give the indie lifestyle a chance, and sacrificed all of 2011 toward just making a third game, without focusing at all on marketing strategy. Between January and October, I created my third game, Escape Goat, which became my most successful to date.
I'm currently focused on finishing Escape Goat 2, as well as promoting my existing games and porting them to new platforms. I'm based in the amazing nexus of indie development that is the San Francisco Bay Area.
My favorite games from my youth were Metroid, The Legend of Zelda, Final Fantasy, Soulblazer, and Secret of Mana. Some of my favorite modern games are God of War, Bayonetta, Shadow of the Colossus, and Resident Evil 4. My all time favorite game is Dark Souls (you know, before it was cool.)
Music is the most important aspect of any game to me. I'll tolerate questionable games just to hear more music, and I'll get bored with exquisitely crafted games if the soundtrack doesn't appeal to me.
For game production, I'm a fan of lightweight design (hardly any documentation), and of learning a bit of each aspect of game production. For this reason the Red Mage is my totem game character.