Archives For promotion
The final logo is here! Randy did an amazing job on this. Here's a wallpaper which integrates some of the new gear elements he added earlier in the week. The text logo is featured on the all new EG2 T-shirt, which will be for sale very soon!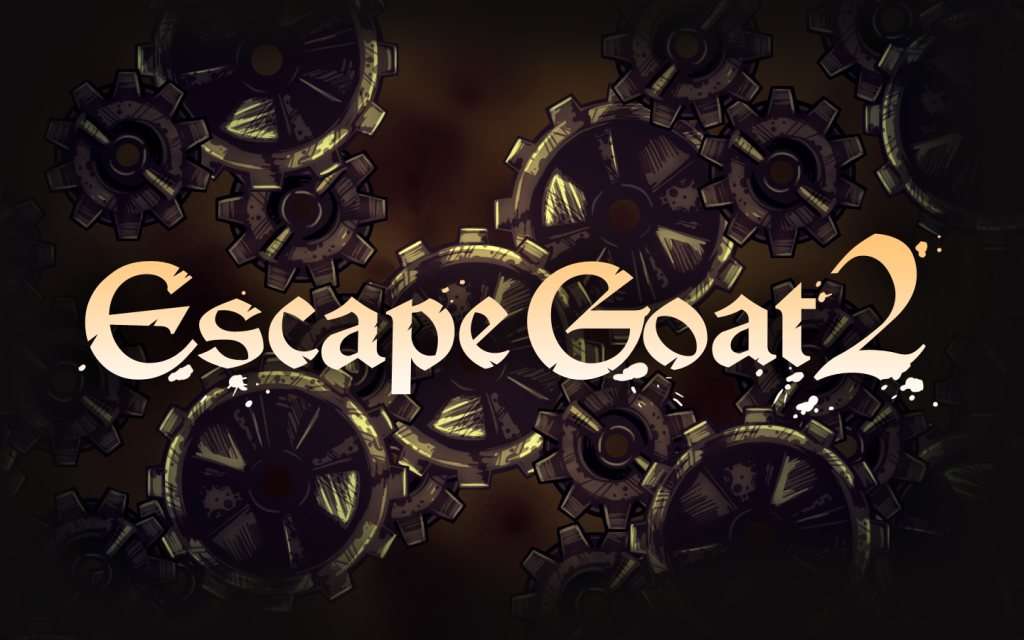 (It took a lot of drafts to get the "2″ just right. I think if I had asked for one more revision, Randy would have hired a band of assassins to take me away during the night.)
// intro
Two weeks ago, I took my XNA dungeon crawler/tower defense hybrid to Newgrounds. The port was entirely the work of Kevin Gadd who stuck around during the first week to push no fewer than 8 patches.  This was my first launch on a web portal, and this article is about what went right and wrong.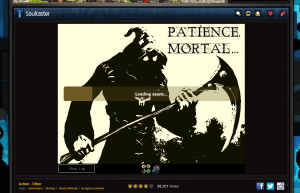 The main thing I did right was research what the Newgrounds community (and web game community in general) would be receptive to. I already have a web demo of Escape Goat, which is designed to feed sales of the digital download from my site. I learned early on  that this type of demo/upsell wouldn't go over well there, so I made the decision to offer the full game. (Thanks to Hyptosis for this bit of advice.)
Bottom line: If your computer is relatively fast and you use a modern browser, you'll have an identical experience to the PC game I sell for $2.99.  I also made sure to clearly label this as an Experimental Beta, given how unpredictable HTML5 support is with some browsers. This paid off, and some players even said they cut me some slack with the technical issues because it was marked as a beta. (Also big thanks to Lars Doucet for his wisdom after launching Defender's Quest on Kongregate.) Continue Reading…
Today I held a small fan-art contest on Twitter.  The submissions were excellent all around, but one in particular stands out as the clear winner.  I'm going to hang this on my wall:
The wait is over!  Escape Goat is available on PC, and has debuted in the June Bug Indie Royale bundle.  Get it in the next few days along with some other fantastic games for an unbeatable price.
Before I even had time to write this post, the bundle has already sold 2,200 copies (in under two hours) and even most astonishingly, Escape Goat is trending on Twitter.  Some friends (@DaveVoyles, @MasterBlud and @jmpaul) sent proof of this: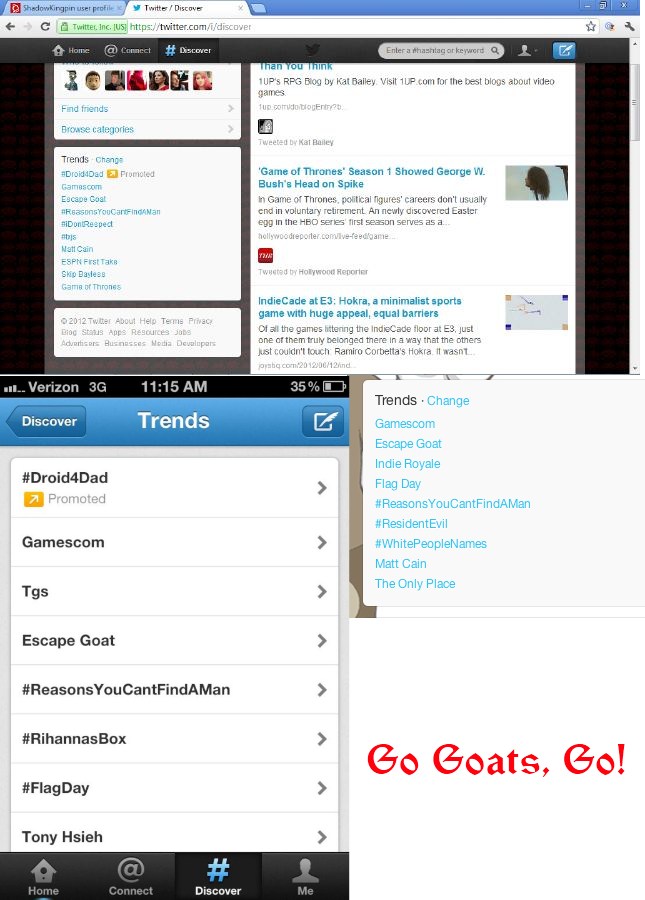 John Walker of Rock, Paper, Shotgun wrote a pretty positive review:  http://www.rockpapershotgun.com/2012/06/14/wot-i-think-escape-goat/
More to come!
For those of you who haven't yet played the Soulcaster games on PC, here's your chance to own both at a $1.02 discount compared to buying them separately ($2.99 USD each) on Desura.
The best part is that despite the discount, I make more per sale than I would anywhere else, thanks to the generous terms of the Humble Store.  We're talking around 90% of your purchase price (give or take a few % based on which payment provider you use).
Huge thanks to Humble for letting me take part in this program. Direct sales from this site is something I've wanted for a while.
In case you were wondering: No DRM, no internet connection required while playing.  Just a Windows setup file for each game. Easy Peasy.
For one week only, we'll be taking orders for Escape Goat and Soulcaster shirts.  Check it out now because orders close [fergcorp_cdt_single date="April 30 2012"]!