SpeedRunsLive is hosting a live race of Escape Goat 2! Join in the fun, as a participant or devoted fan, on Saturday, April 26th, starting at 11AM Pacific/2PM Eastern (19:00 GMT). This is for "any%" so you don't need to rescue more than 7 sheep… unless you really want to rub it in the nose of the competition.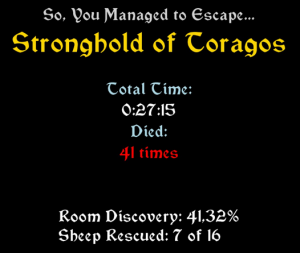 I will be participating in the race, though depending on how many pros enter with elite strats, I don't know how well I will fare. Maybe I should just use a debug version, remove wall clipping and make the goat fly. It doesn't say anything in the rules about that…
Edit: Okay, so there is a rule against it. Guess I will have to just roll up my sleeves…
Top scorer gains immortality, in the form of a Steam achievement in his or her namesake. See you there!